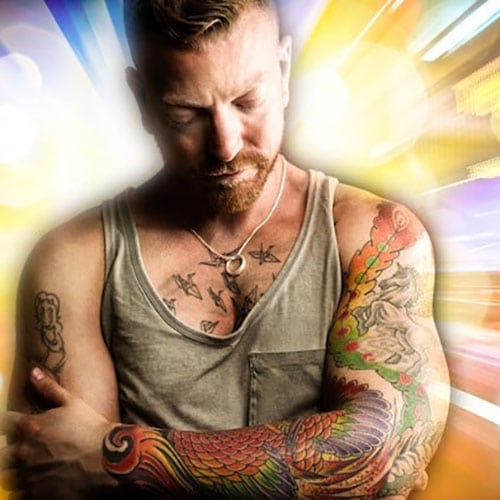 Wayne made his dj'ing debut at London's infamous Red Heart party in April 1996, performing alongside Grace Jones to a dancefloor of over 3,000. However, it was his 9 year residence at London's world's famous Heaven Nightclub that made Wayne G a household name. Wayne has gone on to play huge festivals all over the world including Sydney Mardi Gras, Sydney Harbour Party, Sydney Gay Games, Berlin Love Parade, World Pride, The Adventjah Festival, Folsom St Fair, Fantasia in Bangkok, White Party Palm Springs, Angel in Shanghai, Southern Decadence New Orleans, Provincetown Pier Dance, Winter Party Miami, Gay Days / Wonder World Orlando, Hong Kong Pride, White Party Miami, WinterPride, Provincetown independence, Destination in Beijing, Hell & Heaven Brazil, San Diego Zoo Party, Whistler Ski Week, Trip in Phuket, Connections in Perth, Big Gay Day in Brisbane and the prestigious Fire Island Pines Party & Independence Day Party. 
Over the last few years his travels have taken him to clubs globally from Mexico City to New Mexico, from Sydney to Shanghai, from Johannesburg to Juneau and from London to Lima. Wayne is also a resident on the Atlantis cruises. 
Wayne G's production and remixing skills have been much in demand, his credits include remixes of tracks by Cher, Madonna, Lady Gaga, Kylie Minogue, Katy Perry, Christina Aguliera, Celine Dion, Backstreet Boys, Deborah Cox, Whitney Houston, Darren Hayes, Jerry Springer The Opera, Kelis, Olive, Holly Johnson, Jimmy Somerville, Andy Bell, Belinda Carlisle, to name a few. Remixes over the last few years alone have included Ariana Grande, Sia, Katy Perry Kei$ha, Swedish House Mafia., Icona Pop, Carly Rae Jepson, Nelly Furtado, Australian Idol winner Samantha Jade, Luciana, Erasure and most recently Tamia, Conrad, Clary Brown, Kathy Sledge, Jess Glynne, Wrabel and Charles Perry. Wayne was also the official remixer behind the Tony winning musical Kinky Boots, putting his midas touch to 2 tracks from the show. His own label, Bennu Recordings has worked on original productions with a range of artists including: Debby Holiday, Alison Jiear, Shauna Jenson and Peyton. 
His recent productions have included output on a number on the following influential dance labels; Fierce Angel, Hed Kandi, Flawless Recordings, Tommy Boy, Centaur and Almighty Records. 
Wayne has also worked with artists as diverse as Tony Award Winner 'Levi Kries' on his single 'Be Alright', Darren Hayes on his beautiful single from 2012 'Bloodstained Heart' to Dolly Parton on her classic 'Peace Train'. 
This year Wayne G was inducted into the Just Circuit Hall Of Fame for DJ/Producer/Remixer. Nominated alongside Ralphi Rosario, Dave Aude, Barry Harris, Victor Calderone and Billy Carroll 
Averse to categorization in any one particular musical style, Wayne takes crowd on a musical journey starting with house, electro, tribal, tec and anthemic vocal house and bringing the energy, percussive beats and the uplifting infectious riffs seamlessly together to create a melodic, high energy journey. His sets are notorious for being filled with his own productions, many of which remain unheard unless you get to experience on of his marathon sets. From the Hard House sounds of EDM to the funky sounds of classic house. He is a DJ/Producer that has no boundaries and no limits.