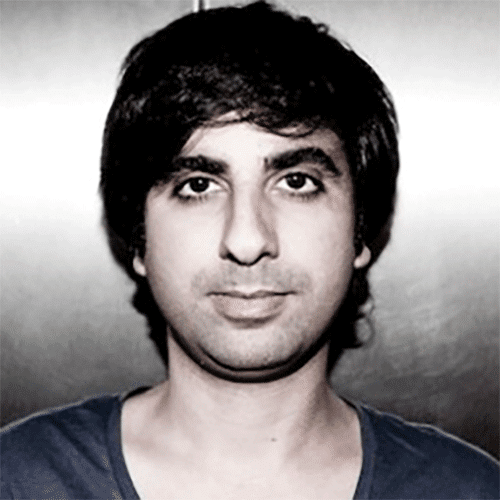 Guy J is the highly sought after producer, DJ and live act whose infectious production talents, worldwide touring schedule and groundbreaking debut album on Bedrock have all contributed to his surging popularity. The Israeli has pioneered the increasing trend for melody-rich and emotionally charged house music, through productions that straddle the space between the genres of ambient, house and techno.
After making waves with a volley of killer singles, Guy released his hotly anticipated full-length artist album – 'Esperanza' – on John Digweed's heavyweight Bedrock label. It was critically acclaimed and firmly established Guy as a key player in a new wave of deep house protagonists.
More essential cuts like 'Lamur' (Bedrock), 'Pleasurety EP' (Sudbeat) and 'Shaman' (Turbo Records) have since followed to sustain the buzz around this young man's talents. His Heliscope EP saw the development of his relationship with Bedrock, with his music again transcending genres.
With further releases pouring out of Bedrock Records, he has cemented his place as the core artist on one of the dance world's most respected labels and continues his rapid evolution.
Discography:
Jori Hulkkonen – I Am Dead ft. Jerry Valuri (Guy J Remix) (Turbo Records)
Way Out West – Ultra Violet (Guy J Remix) (Armada) MS & PMA – Endless (Guy J Remix) (Faith Music)
Sahar Z & Guy Mantzur – Sneaky Monkey (Guy J Remix)(Definitive Records)
Albums:
Guy J – Esperanza (Bedrock Records)
Singles:
Guy J – Ballroom (Bedrock Records) – Dust/Bianca (Sudbeat) – Lamur (Bedrock Records) – Shaman (Turbo Records) – Luner(Bedrock Records) – Geko (Bedrock Records) – Under Pressure(Bedrock Records) – Popcorn Machine (Whoop!) – Stop Hold (Manuel Muic) – Skin (Turbo Records) – Fade (Dogtown) – Been Here Before (Focus) – Save Me (Bedrock) – Agent Blue (Azuli) – Amsterdam (Dogtown) – Self Love (Proton)) & Sahar Z – Hazui (Electribe) – Never Say No (Deep Focus) & Raanan Raz – Resek (Deep Focus) – FunkiJunki EP (Proton) & Roy Brizman – Vinyls Are Forever (Focus)
Remixes:
Bent – As You Fall (G&E Analog) Jim Rivers – Vibrant (Guy J Remix) (Global Underground) Bluetech- Honey in the Heart (Guy J Remix) (Aleph Zero Records) Eric Prydz – Pjanoo (Guy J Remix) (MOS) Sasha – Mongoose (Guy J Rmx) (Emfire) Dubfunk – Mandala (Guy J Rmx) (Audiotherapy) DJ Yello – On the Top (Guy J Rmx) Traffic – Find Me (Guy J Rmx) (Global Underground) Dpen & Elias Tzikas – Frequency Loss (Guy J Rmx) (Focus) CPM – Violas (Guy J Rmx) (Proton)
www.myspace.com/guyj1
www.sweatlodgeagency.com
https://www.facebook.com/guyjofficial
https://twitter.com/djguyj