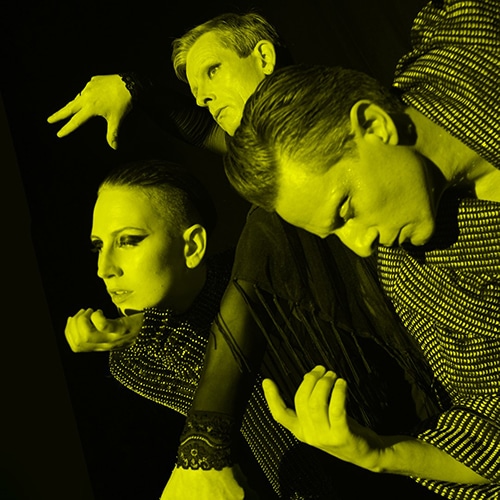 GusGus was initially formed in 1995 as a film/music collective. This spawned a short film and a critically acclaimed best selling album in Iceland.
After striking a deal with 4AD in 1996 they became one of the most sought after electronic music acts out of Iceland.  With the release of Polydistortion (4AD/Warner) in 1997, GusGus solidified their worldwide status to sold-out shows all over the world.
GusGus has had a span of nearly two decades in which they have done nearly every style of electronic influenced music.  From techno to trip-hop, from house to progressive house/trance to pop, this collective has made each style their own.
The current line up consists of founding members: Biggi Veira and Daníel Ágúst. Their acclaimed album 'Mexico' was released in 2015 with GusGus once again presenting the audience with magical soundscapes that go from synth-pop "Obnoxiously Sexual" to deep techno "Mexico" to progressive house "Airwaves" and the chart topping stomper "Crossfade".  The combination of the vocal artistry of Daníel Ágúst and the raspy melodic voice of Högni Egilsson (also a member of indie band Hjaltalín) surrounded by mesmerizing electronics, haunting grooves, with subtle string and brass arrangements blending in, creates a very unique and powerful sound produced by mastermind Biggi Veira which has been leaving audiences clamoring for more.
The band released the track, "Featherlight" in 2017, followed by an EP of the same name in early 2018. Their forthcoming album, 'Lies are more flexible', is scheduled for release in 2018.
https://www.facebook.com/GusGusOfficial/
https://twitter.com/GusGusOfficial
https://soundcloud.com/gusgus