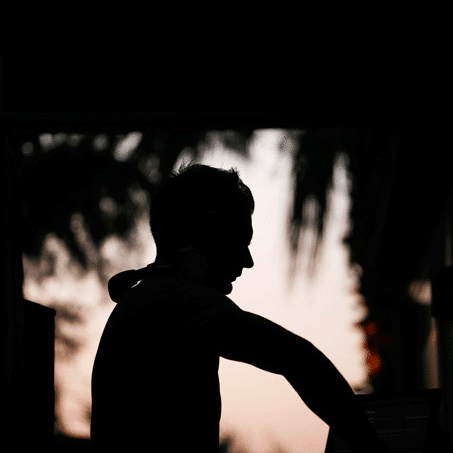 Athens born dPen aka Yannis Pennas, was introduced to and fell in love with music at an early age. This overwhelming passion for dance music in particular, has been his driving force ever since.
As a distinguished saxophone and flute player and at the same time being influenced by the works of Sasha, John Digweed amongst others, dPen started working as a DJ at parties at the age of 15. At 17 he started playing in bars and clubs in Athens where he gathered a strong following and a reputation as one of Greece's finest DJ's.
While studying at Berklee College of Music in Boston for a Diploma in sound engineer and audio mastering, dPen continued to develop an intelligent, unique and progressive dance music style, which certainly has the 'Lost in Sound' effect through its intricate tech beats combined with haunting melodies.
dPen took this passion to another level by producing his first 3 electronic music tracks: Airborne, Closer and 7th Hour. And despite being his first productions, they quickly attracted global recognition through the attention and support of South American producer Hernan Cattaneo.
dPen has long been one of Greece's most exciting producers. He has released tracks on multiple progressive house labels such as Nick Warren's Hope Recordings, Hernan Cattaneo's Sudbeat, Tiesto's Black Hole Records, Subliminal and Bonzai amongst others with over 50 official releases so far.
dPen's global reputation as a 'DJ & Producer to watch' has been acknowledged through collaborations and remixes of his productions by top producers: Hernan Cattaneo and Sound Exile, Guy J, Moonbeam, Felke Kleijn, Chris Fortier and Mashtronic (Cid Inc) to name a few. His productions have also been regularly featured in broadcasts by Hernan Cattaneo, Nick Warren,Laurent Garnier and John Digweed.
Boarding Pass is a monthly online syndicated radio show presented by dPen that attracts more than Ten thousand live listeners across the globe as well as an exclusive monthly podcast available on iTunes with 7000 downloads every month.
dPen managed to be one of the few Greek artists with regularly international appearances having already played in Spain, Argentina, Bolivia, Mexico Italy, England, Russia, Egypt, Lithuania, Romania, Bulgaria, Turkey, Canada, and the USA.
With track sales, listener ship and download figures growing, dPen is very much launching himself on the world stage and is certainly fulfilling his reputation as one to be watched.
"Behind every note there is a feeling, behind every melody there is a picture, behind every track there is a story… This is my story…"
-dPen

For privacy reasons YouTube needs your permission to be loaded.
I Accept
https://www.facebook.com/dPen-17048114373
https://twitter.com/dPen_gr
https://soundcloud.com/dpen