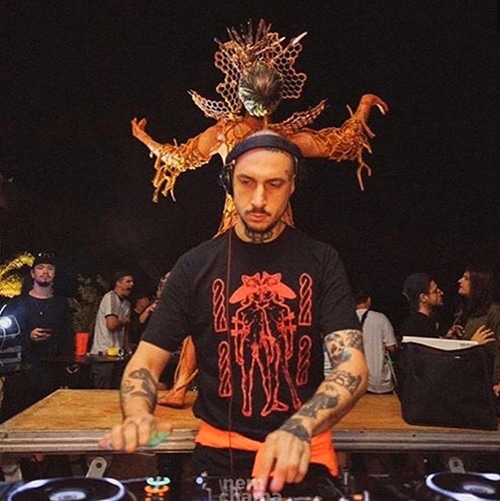 Tessuto, is Djing since 2008. He is also a music & cultural producer/ born in São Paulo. D-Edge resident from 2010 to 2015. In 2010 he created the cultural intervention Carlos Capslock who helped to shape a hole clubber generation and events in Brazil.
He has played in festivals such as Universo Paralello (2013), Kaballah (2015) Rock In Rio (2017) , Dekmantel festival São Paulo (2017 e 2018) and Dekmantel South America Tour (2017), XXXperience (2018) and in several parties around almost all the Brazilian states. He also performed at some cultural institutions like MIS-SP (Image and Sound Museum), Goethe Institute, Galeria Nacional, CCBB-SP, CCBB-BH , where the party Carlos Capslock participated in the German exhibition " Zeitgeist, the art of new Berlin ". His party also participated in three editions of Virada Cultural (2012 & 2104 and 2018), SP na Rua (2015 e 2016, 2018) and in the street Carnival of São Paulo with the SP Beats street block with Gopslock, a partnership between Carlos Capslock and Gop Tun(2017 & 2 018 ).
He produced Capslock at Shift (Berlim), an annex of Berlin Atonal festival. He also has produced events in partnership with the German Federal Government through the German Consulate in Brazil. In 2018 was invited by Mirik Milan and the Amsterdam Marjory to represent Brazil on the Night Life Round Tables. He participated as a speaker of the RMC (current Brasil Music Conference ) in 2014, 2016, 2017 and 2018 . He was nominated for the VI Rio Music Conference 2016 as best "DJ Underground", while Carlos Capslock competed as "Party of the Year".
As a DJ he has been on 8 European tours since 2013 including cities like Berlin, London, Paris, Brussels, Istanbul, Malta, Rotterdam, Vien (among others) with gigs in several clubs such as Salon Zur Wilde Renate , GoldenGate, Sisyphos, Tresor, Chalet, Morlox, Griessmuehle, Else, Prince Charles , Mezcaleria Lupita, SchwuZ, Bar , Katerblau, BeatUwe , St.Georg, F23, among many others.
He also runs the label MEMNTGN alongside L_cio (music producer Laercio Schwantes) with international distribution by the German label Kompakt. In 2017 he produced the fifth release of the label – Second Hand Food EP . As a music producer, he had tracks released by Gop Tun, Magic Black, Rainbow Socks, Future Visions , Scandalo, – where he released his first vinyl EP (2014).
In 2019 he started to produce along side the legend Gui Boratto and soon he will have his first release on D.O.C. Records.
As an event producer, he brought to Brazil artists such as Isolée, Andy Blake , Pachanga Boys, Alexander Robotnick , Sebastian Voigt , Danny Daze, Axel Boman , Virginia, Gui Boratto, Peak & Swift, Paranoid London, Ryan Elliott, DJ Hell, Rebolledo, Renato Cohen, Anna and DJ Mau Mau among many ohters
Paulo also created Rivotrio, the trio elétrico (electric car) of the Capslock party, and he was responsible for the opening party of the PopPorn festival between 2013 and 2015.
As a traveling cosmic metamorphosis, Paulo Tessuto lies through the Brazilian and international musical and cultural space as a force that mixes engagement, fun, and madness of the purest quality. Tessuto is a media multiverse in the form of a person: he creates fanzines, makes videos, is a music producer and his greatest talents are applied as a DJ and producer.