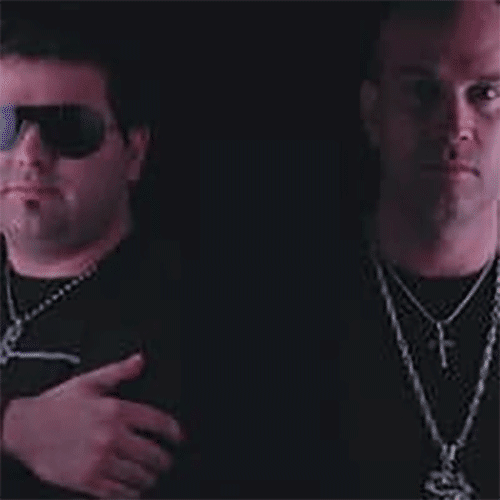 Roberto Lewinger is best known for his collaboration with Gabriel Rocha whereby they created a partnership under the alias Rocha & Lewinger. This Dj-producer-mixer duo have proved to have an incredible and unusual talent throughout their achievements, managing to raise the Uruguayan electronic music scene to the highest world standards. In 2003, they landed their residencies at Key (formerly known as Milenio) and W. Lounge, the most prestigious night clubs in the country. Thanks to their productions and refined dance floor skills, this duet is managing to take their music to the best clubs in the world. In 2005 they begin their career as producers, merging their musical instrument knowledge and their exquisite handling of Ableton Live, succeeding in getting presentations both in Live, as well as in Dj Set.
After the quirky named "Ecodoppler" European tour and their WMC 2008 performance, they´ve been acknowledged as top DJs and have packed their schedule with bookings. The year 2007 reassures their career as producers when their track "It´s too late" makes top 1 in sales for two weeks and is picked by Darren Emerson to be part of his Dj Mag mix compilation. Right after that, they signed with the English label, Leftroom, landing their vinyl on the top 10 sales chart at Juno, the world´s most important record label, getting it to be a support track for Dubfire, Marco Carola, Anderson Noise, among others. Also their songs "Nostalgia", "Mile Davis", "It is this" make it to the top 10 both in Juno and Beatport charts. The incredible talent and success this duo has proven in 2007, made this year arrive full of accomplishments.
Mark Brown, talented british producer, includes them in their essential mix for BBC´s Radio One. Also, they sign with the label Cr2 for the record Miami 2008, and are chosen to be a part of the Dubfire (former Deep Dish) team, starting in April, for the Sci+Tec label. Tom Hoch, manager of Beatport says "Sci+Tec, of Dubfire, is the label that´s going to have the highest sales in 2008". Their EP "Touching the other side", released in 2007, is nominated for Best Uruguayan Electronic Music Record, competing for the Rolling Stone Magazine awards. The daily newspaper, El Observador, says "it´s not strange that labels around the world are taking interest in this duo". Today they support some of the most important stars, such as Anderson Noise, Dubfire, Marco Carola, Matthew Dear, Darren Emerson, Simon Baker, Nic Fanciulli, Tania Vulcano, and so on. Also in 2006, they opened their own label, Pild Records with a wide range of talented artists including, Anderson Noise (Brasil), Kamishake (London), Dj R K (Neatherlands), and more, with the exclusive support of Beatport. "Smoking acid" makes it to Beatport´s top 10 for the minimal genre, also joining Anderson Noise´s compilation for 2008. "Positive" will be edited in the Live & Direct compilation for the Cr2 label, mixed by Dj and producer Mark Wrom. "Ecodoppler" made it to Beatport´s top 10, for SCI+TEC of Dubfire in May. "Nostalgia" made it to the top 10 in Juno and Intergroove in June 2007. "It´s too late" landed top 1 in Juno´s chart, in May 2007.
Leftroom, SCI+TEC, Cr2 records, 303 lovers, Minimo Records, Under Water, Noise Music and Circle Music all included them in their team. Here are some novelties for May: Gregor Tresher chart – nº1 "Ecodoppler"- Rocha&Lewinger from cool junkies. (may) Dubfire chart – nº2 "Ecodoppler" – Rocha&Lewinger from beatport.com (may). Simon Baker chart – nº1 "Downseq" – Rocha&Lewinger from mixmag (may). Mix mag chart – nº9 "Downseq" – Rocha&Lewinger from mixmag (may). Spencer Parker chart – nº6 "Cachaça" – Anderson Noise (Rocha&Lewinger rmx) from Mix mag (april).