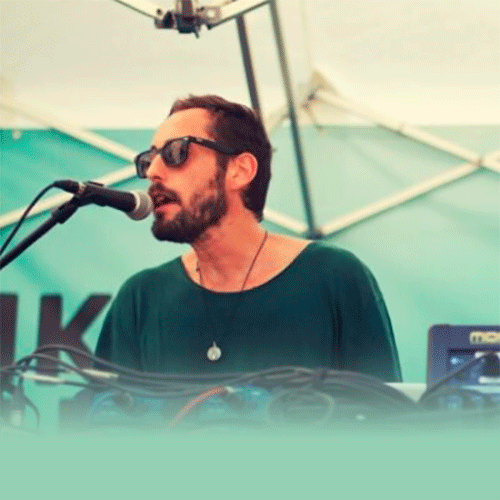 A graphic designer and music maker born in Santander on the north coast of Spain, Aphro started his creative career as a graffiti artist in the late 80s before starting to make music with the dub band Better Collie. Their first release came in 1998 ('Better Collie Rides The Way Chapter One') with influences from the likes of Keith Hudson, Lee Perry, Scientist and Junior Murvin. After moving to Madrid in 1999 he stopped performing in bands but continued to collect records and play as a DJ. In 2005, he moved to Barcelona where he met fellow DJ Pablo Bolivar. They recorded a Burning Spear rework entitled 'Dub by the River' which showed clear influences of dub techno (Rhythm and Sound, Echospace) but with a psychedelic and soulful feeling.
In 2007 their debut EP 'Babylon Fall Collection' was released — a compendium of free-floating melodies in the style of Rhythm & Sound dub tech but with a strong Jamaican influence and soul-pop sensibility. The record was well-received, marking a bright beginning to the group's career. Just a few months later the EP was expanded into an LP 'Brotherhood' and released by Phonobox in 2008.
The album impressed German label Desolat (founded by Martin Buttrich and Loco Dice) so much they released their next album 'Inside' in 2010, which showed a significant evolution in the duo's style. The dub pulse continued to dominate, but the personality of each track expanded to create a diverse album which makes room for reggae ('Empty Suitcase/Stepping Stones'), electronic pop ('Distant Fire', 'Da Creator'), house ('Montparnasse') and downtempo ('California State of Mind', 'STARS', & 'United States Of Pulshar'). The album was well received and appeared on several lists highlighting outstanding albums of the year.
For privacy reasons YouTube needs your permission to be loaded.
I Accept
The promotional tour for 'Inside' saw the pair playing larger venues, an experience that further influenced their sound. Keeping in mind spaces such as theatres and chill zones with more ambient sounds, they released 'Europe Ist Eine Insel/Europe Is An Island' in 2012, a beautiful five-act piece composed for a theatrical performance and released on Avantroots as a free download.
This was followed by the hypnotic 12″ 'Different Drum' (Desolat, 2013), where a more powerful and muscular dance sound was displayed alongside techno influences and a taste for percussion. The title track, 'Different Drum', like their song 'Distant Fire' from 'Inside', is reminiscent of electronic pop bands of the 80s.
Being self-professed creators of "soundtracks for mental states", their releases are often indebted to cinema with traces of film often weaved into the pair's musical direction. They continued to be prolific with a 2014 release 'Blood & Mathematics' (Desolat), which featured the song 'Better than Tears'—an intimate production with prominent vocals.
https://soundcloud.com/vidallmusic
https://www.facebook.com/Pulshar-108894522493588/
https://twitter.com/Pulshar_